Twelve South BookBook Leather Case for MacBook Air 11″ and 13″
An article by
eoutlet
Twelve South have produced a truly breathtaking MacBook Air case in the form of the Twelve South BookBook Leather Case for MacBook Air. Stunningly beautiful in its unique, book-style guise, the Twelve South BookBook will be a case you are proud to put your treasured MacBook Air in.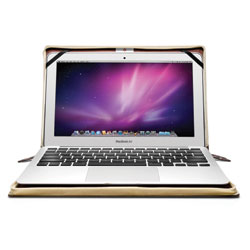 Designed to keep your MacBook Air safe, protected and above all discreet, the Twelve South BookBook is the perfect solution to your MacBook accessory needs. Encasing your MacBook Air in a handmade quality leather distressed case with a velvety chocolate brown inner, the Twelve South BookBook disguises your MacBook Air so you have more peace of mind when taking it from place to place. The inner cushioning also maintains the outer shell of your MacBook Air as a scratch-free surface, keeping it looking new and pristine for the lifetime of your MacBook Air.
Available exclusively for the MacBook Air 11″ and the MacBook Air 13″, the Twelve South BookBook is one of the most stylish and unique cases on the apple accessory market and one which is as sophisticated and stylish as the very device it intends to protect.