An article by
eoutlet
Apple caused a phenomenon with their recent release of the 2nd generation of the iPad at the end of March, known simply as iPad 2. Developed from its predecessor to be sleeker, slimmer, lighter and faster, the iPad 2 is the hottest tablet on the market and was good enough to bring Steve Jobs back into the spotlight. With the launch of such a device, as with all other Apple launches, a flood of accessories to compliment the iPad 2 have emerged. But with so much to choose from, how do you know which the best accessories are? So, here at eoutlet we've decided to put together our pick of the great and good iPad 2 accessories around at the moment and which ones are really worth investing in!
Cygnett Glam Glossy Finish Folio Stand Case for iPad 2 – Red
Cygnett are awash with excellent accessories, producing top quality products for all Apple devices and the iPad 2 is no exception. We've picked the Cygnett Glam Glossy Finish Folio Stand Case for iPad 2 – Red as our favourite. This patent-leather case is sheek and stylish and makes your iPad 2 even more attractive, plus the vibrant red colour really makes it stand out! Acting primarily as a protective case, the Glam Glossy also acts as a stand, allowing you to view your iPad 2 both in portrait and landscape. Unlike many cases, the Glam Glossy protects both the front, back and sides and the flip book style front allows you to view the screen and then conveniently close the case back up to protect your iPad 2 screen. The sturdy design also protects your iPad 2 from bumps and scratches. Cygnett really have come up with a winning solution and case that both protects and has amples of style.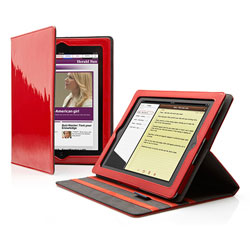 Incipio NGP Case for iPad 2 – Translucent Turquoise
When you think of Apple accessories, the first thought that comes to mind is Incipio, we definitely couldn't have a top accessories list without them! For the iPad 2, Incipio have really surpassed themselves. The NGP is such an example. Made from a semi-rigid polymor material, the NGP case is malluable enough to snuggly hold your iPad 2 yet strong enough to protect it should your iPad 2 suffer a drop or bump (fingers crossed it doesn't!!). One thing that also makes this case stand out from many others is its translucent colour, allowing you to see the back of your iPad 2, that sleek and unique design deserves to be shown off! As well as this, Incipio have finished off the NGP case with a soft matte touch, leaving it smooth but grippable, making that fall a lot less likely. And of course, no Incipio case would be complete without the excellent Vanity Kit, containing everything you need to clean and protect your iPad 2. Screen and back protected, job done.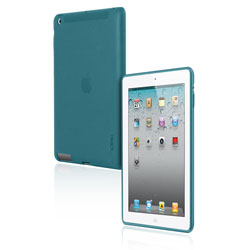 Zagg InvisibleShield For Apple iPad 2 (WiFi/WiFi + 3G) Maximum Coverage Shield
Where would we be without a trusted Zagg? Their military precision cut invisibleSHIELD's have revolutionized the way we see Apple protection. And if your an iPad 2 user who prefers the real deal, and don't want to clutter or cover up your iPad 2 with a bulky case, well Zagg have your answer. The Maximum Coverage Shield does exactly what it says on the tin, and as with all their shields, Zagg offer the same exceptional guarantees and quality. As well as protecting the screen of your iPad 2, unlike other screen protectors, the Zagg shield also covers the back of the iPad, so there is no need to purchase another case, simple! If you like your accessories minimal, then the Zagg invisibleSHIELD is definitely the one for you, allowing your iPad 2 to stand out in all its unhindered and uncovered glory.
Watch the Zagg Scratch Test to see for yourself how awesomely protective these invisibleSHIELD's really are:

Scosche folIO P2 Folio Case for iPad 2 White Carbon Fibre Texture
Scosche have delivered an unexpectedly brilliant iPad 2 case from their range of Folio Cases. Usually associate with technical gadgetry and car solutions, Scosche have taken us by surprise with the folIO P2 Folio Case for iPad 2, bringing a unique texture and look to the iPad 2 accessory market. Working on the same basis as many iPad 2 case designers, Scosche realised that simply making a case was not enough and have successfully incorporated a stand into their design. Enveloping the iPad 2 in protection, the folIO opens like a book to allow you to continue using the iPad 2 whilst still encased. The case then opens out to be used as a handy stand when you're on the go. As well as all this functionality, Scosche have also paid close attention to the design, the carbon-texture exterior looks slick, whilst the suede interior protects and cushions your iPad 2, keeping it safe from harm.
Cygnett CarGo iPad/iPad 2 Car Seat Mounting Bracket
The iPad 2 isn't just for looking good, it has some pretty good functionality too and Cygnett have designed the perfect accessory for anyone wanting to make the most of such functionality when on the move. The CarGo is the ideal accessory if your travelling with young passangers to keep them entertained, easily fixing to the metal brackets on the headrest. The iPad 2 itself also slots into the bracket, so you don't have to be messing about putting it in and removing it whenever you leave the car! Another benefit of the CarGo is that it will fit the iPad 2 in whilst it is still in its case, saving you even more time when you are on the go. But what about bumps in the road and short corners, I hear you cry? Well, Cygnett have ensured their design is secure and keeps the iPad 2 firmly in place, so you don't have to worry about your iPad falling out!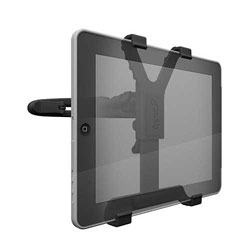 Twelve South BookArc Stand for iPad and iPad 2
So, you've fully protected your iPad 2, now you want to enjoy it. Twelve South have created a beautifully designed stand that will make viewing your iPad 2 a dream. The Twelve South BookArc Stand for iPad and iPad 2 is the ideal accessory for anyone looking to position and store their iPad 2 in style. Allowing you to stand your iPad 2 in either portrait or landscape mode, Twelve South have got everything covered. Also, the simplistic and minimal design doesn't take up too much room either, or draw to much attention, your iPad 2 remains the focus. Excellent for chatting via FaceTime or surfing the web with a wireless keyboard, the BookArc is a superb Apple solution allwoing you to enhance your iPad 2 functionality.
Griffin Powerdock Dual Charger for iPad 2
With all that performance, the one flaw with all Apple devices is losing battery life and the iPad 2 is no exception. Therefore you are going to need a decent charger, look no further than the Griffin Powerdock Dual Charger for iPad 2. This nifty gadget from Griffin, not only allows you to charge your iPad 2 but also your iPhone/iPod at the same time! It is the perfect device for any Apple follower, dual charging for a combination of devices. The key advantage of using the Griffin Powerdock with the iPad 2 is that you can still use all of its functionality whilst it is charging, creating the ideal viewing stand for your iPad 2 as well as charging it at the same time. The Griffin Powerdock also feaures a hand little tray at the front to store any extra change, keys and cables. The Griffin Powerdock itself is also lightweight and unobtrusive, meaning that it will not take up too much room when charging your iPad 2.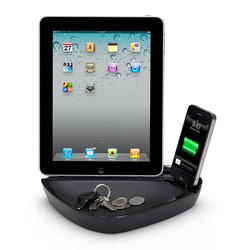 Be-ez LA robe Allure Sleeve Case for Apple iPad and iPad 2 – Black
So far in our list of top iPad 2 accessories, we've looked at stands, chargers, screen protectors and back cases, now it is time for something a little more classic in design. If you prefer to protect your new iPad 2 in an all-over cushioned enviroment, then the Be-ez LA rober Allure Sleeve Case for Apple iPad 2 is your answer. Made from soft memory foam known as Low Resilience Polyurethane, the Be-ez LA robe is ideal for protecting your iPad 2 when not in use and especially when on the move. Providing all over protection, the Be-ez LA robe should protect your iPad 2 from any marks and scratches, definitely a weight off your mind! The classic striped black design offers a more subtle and un-imposing case, a win for those who prefer a more demure form of protection for their iPad 2.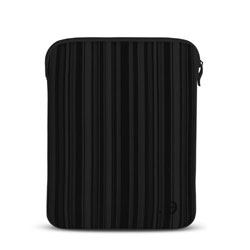 Tags:
apple
,
apple ipad 2
,
Be-ez
,
Be-ez for iPad 2
,
Be-ez LA robe Allure Sleeve Case for Apple iPad and iPad 2 - Black
,
Be-ez LA robe for iPAd 2
,
car accessories
,
cygennt ipad 2
,
Cygnett CarGo iPad/iPad 2 Car Seat Mounting Bracket
,
Cygnett Glam Glossy Finish Folio Stand Case for iPad 2 – Red
,
cygnett glam ipad 2
,
folio case ipad 2
,
glam ipad 2
,
griffin charger
,
griffin charger ipad 2
,
griffin iPad 2
,
Griffin Powerdock Dual Charger for iPad 2
,
incipio ipad 2
,
incipio ngp
,
Incipio NGP Case for iPad 2 - Translucent Turquoise
,
invisible shield ipad 2
,
ipad 2 accessories
,
ipad 2 brakcet
,
iPad 2 car accessories
,
ipad 2 car bracket
,
ipad 2 car mount
,
iPad 2 case
,
ipad 2 charger
,
ipad 2 dock
,
ipad 2 mounting bracket
,
ipad 2 power
,
ipad 2 screen protector
,
ipad 2 stand
,
iPad car accessories
,
LA robe
,
maximum coverage shield ipad 2
,
ngp ipad 2
,
scosche folio
,
Scosche folIO P2 Folio Case for iPad 2 White Carbon Fibre Texture
,
scosche ipad 2
,
screen protector ipad 2
,
shield ipad 2
,
top iPad 2 accessories
,
Twelve South BookArc
,
Twelve South BookArc Stand for iPad and iPad 2
,
Twelve South iPad 2 stand
,
zagg
,
Zagg InvisibleShield For Apple iPad 2 (WiFi/WiFi + 3G) Maximum Coverage Shield
,
zagg ipad 2