Scosche iPhone, iPad and iPod Accessories available at eoutlet.co.uk
An article by
eoutlet
Scosche made a name for themselves with innovative and revolutionary car accessories, making your gadgets and devices work better for you. With the advent of the Apple revolution, Scosche focused a lot of their attention on creating outstanding iPhone, iPod and now iPad accessories and solutions. Still producing car accessories, Scosche have now diversified to produce power solutions, cases, stands and even headphones to enhance your Apple device.
Below we take a look at some of the exceptional accessories produced by Scosche…
Scosche BTAXS motorMOUTH II stereo – Bluetooth Handsfree & Streaming Audio Car Kit
Winner of the iLounge 2010 CES Best of Show, the Scosche BTAXS motorMOUTH is a fantastic little gadget that makes a world of difference. Plugging into your car MP3/Aux input, the Scosche motorMOUTH allows you to chat handsfree, via your car radio speakers, connecting to your iPhone by bluetooth. It couldn't be any more simple than that. Scosche pride themselves on producing a crystal clear conversation with echo cancellation even in the noisiest of cars!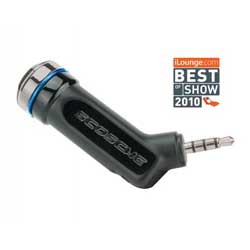 Scosche folIO P2 Folio Case for iPad 2 – White Leather Texture
The iPad 2 is pretty big at the moment and anyone who has one knows that protecting it is key. Scosche have produced an outstanding case which also works as a stand, offering functionality and protection, without compromising on style. The Scosche folIO has a superior leather texture and folds over your iPad 2, enveloping it all, including the screen. The Scosche folIO then opens like a book and the front panel folds out to act as a handy stand. A series of 3 grooves on this front panel, allows different viewing positions depending on what you want to use the iPad 2 for. Also, a super suede interior lining offers enhanced protection for the screen and back of your iPad 2, ensuring it is safe from scratches, marks and bumps.
Scosche switchBACK surge g4 – Backup Battery Case with Kickstand for iPhone 4
Running low on battery is never good for any iPhone 4 user, especially when you happen to be nowhere near a power supply or computer. Well, Scosche have designed and created a new addition to the back battery market, which is fastly beoming one of the top iPhone 4 accessories to get your hands on. Scosche's version is brilliant, not only is it a fully functioning second battery, but its slimline design acts as a solid and protective case also, keeping your iPhone 4 safe and scratch-free at all times. And to make their switchBACK surge even more unique, Scosche have added a handy kickstand to the back of the case, meaning that you can watch and view your iPhone 4 in a convenient landscape position. The Scosche switchBACK adds an impressive 80% more battery life to a dead iPhone 4, substantially increasing the amount of time you have to talk, surf, text and play. Scosche have condensed a lot of power into a very nifty little device, one which once you own, you'll never understand how you lived without.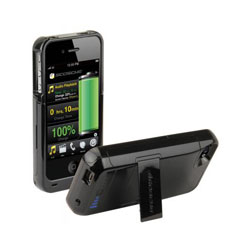 Tags:
bluetooth
,
car accessories
,
handsfree
,
ipad 2 accessories
,
iPad 2 case
,
ipad 2 folIO case
,
iphone 4 accessories
,
iphone 4 backup battery
,
iphone accesssories
,
iphone handsfree
,
motormouth
,
Scosche
,
Scosche BTAXS motorMOUTH II stereo - Bluetooth Handsfree
,
scosche car accessories
,
scosche ipad 2 p2 folIO case
,
scosche iphone 4 backup battery
,
scosche iphone 4 case
,
scosche motormouth
,
switchback surge