Just Mobile AluPen Stylus for iPad 2
An article by
eoutlet
Having featured in our Top 10 iPhone 3G/3GS Accessories, we though it about time we looked a little more indepth at one of the best accessories around…
Just Mobile's AluPen Stylus is not just for the iPhone 3G/3GS but is now also the best accessory around for the brand spanking new iPad 2 which has taken the technology world by storm.
In a range of 6 vibrant metallic colours, the AluPen stylus is designed to eliminate the hassle and irritation of using your touchscreen on your iPad 2. Another key advantage is to keep your iPad 2 free of smudges and marks, caused by using your fingers directly on the screen.
Shaped as a chunky pencil, the AluPen stylus is almost retro in design. Made from aluminium with a soft rubber nib, the weighty design gives you a tactile and controlled precision over your iPad 2. And measuring a mere 12 x 1.3 x 1.2 cm (4.7 x 0.5 x 0.5 inches) the AluPen stylus is smaller than a standard ball point pen, meaning you don't have to carry around an unnecessarily large accessory. It even comes with its own case, simple yet brilliant.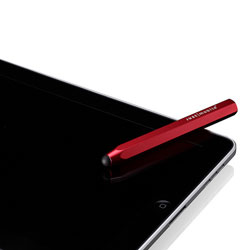 Not only will the AluPen stylus make composing emails and blogging more precise and scrolling through pictures and surfing the web more accurate but it is especially good for all those with a creative flare. The perfect companion to drawing and painting apps, the AluPen stylus will allow you to draw and colour until your heart is content (and not have to worry about sticky finger print marks all over your new iPad 2 when your done!!).
And if your still not convinced, watch below to see the AluPen stylus in action for yourself: