iPhone 4 Tough Cases for builders and workmen
An article by
eoutlet
We get asked by our customers what we have in terms of iPhone 4 case that are extremely tough so we thought we share some of our suggestions on iPhone 4 tough cases. We believe the cases below are ideal for builders, plumbers, electricians, tree surgeons etc that use an iPhone 4 for work.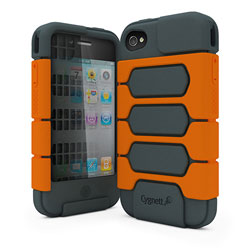 Cygnett Workmate iPhone 4 tough case may not be as tough as the Griffin Survivor iPhone 4 tough case but it's the next best thing. This extremely tough iPhone 4 case is available in two colours, orange and grey or black and grey. Both complement the iPhone 4's astonishing appearance and keep it safe from any dangers it may face. It consists of a double-strength rubberized case which has been specially designed to absorb high level shocks and withstands falls in the most extreme of conditions. Whether you're a builder, workman or just extremely clumsy, this case is what you've been searching for thanks to its double layers of silicon combined with internal ribbing which provides maximum shock absorption and textured surface for better grip. Cygnett Workmate is a must have product for the iPhone 4!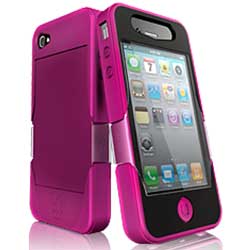 iSkin revo4 iPhone 4 tough case is unbelievably strong for just a phone case. Not only is this iPhone 4 case tough and suitable for an everyday lifestyle, it is stylish aswell. It comes in a range of colours such asNighthawk Black; Lush Pink; Hornet Yellow and Falcon White. It isn't hard to believe that the iSkin revo4 is continuing the award winning tradition for the iPhone 4 with credit going to it's unique tough and stylish case with shock, moisture, impact protection and Visor screen protection. It's soft, flexible and molded to follow the exact curves of the iPhone to provide excellent protection which makes it a case that is not just for everyday, the iSkin revo4 is for life!
Griffin Survivor iPhone 4 tough case must be the toughest iPhone 4 case out there. This iPhone 4 case is really tough, check out the video where a mad man attempts to destroy his iPhone 4 a number of times whilst it's in the Griffin Survivor iPhone 4 tough case. After numeral failures he decides to drive over his iPhone 4 (whilst it's in the Griffin Survivor iPhone 4 tough case) to see if he can destroy it with his final attempt. Watch the video to find out if he succeeds…