iPad 2 Stands – Best Desk stands for your iPad
An article by
eoutlet
The iPad 2 is an innovation in consumer electronics, designed for work and play, Apple have designed the iPad 2 to be easy to use, lightweight, sleek and easy to take with you where ever you need to be. Protecting your iPad 2 is key in order to maintain its functionality and style. The market is awash with top accessories to compliment your iPad 2, but knowing what to go for is often tricky. The key accessory that has emerged for the iPad 2, along with all of the cases and screen protectors is the stand. Manufacturers have been working extremely hard to tap into this new market and create a new, exciting, yet functional stand that will compliment the iPad 2 and enhance its usability and look. We've hand-picked seven of what we think are the top stands for the iPad 2, those that really stand above the rest.
1. Twelve South Compass Portable Stand for iPad 2
There are not many stands like the Twelve South Compass. Unique in it's design the Twelve South Compass adds no weight or bulk to your iPad 2 and is so small and efficient you will barely notice it and you can carry it around as easily and efficiently as you do your iPad 2. With three legs, the Twelve South Compass allows for two distinct standing positions, upright for viewing and surfing and low and slightly raised for typing. The outside two legs rest and support the iPad 2, whilst the middle leg alters to lift or lower your iPad 2 to the most functional and accessible viewing position. But how could such a small little gadget hold and support the iPad 2 I hear you ask? Well, the Twelve South compass is made from heavy-gauge steel which ensures that its stance is sturdy and safe. The feet of the Twelve South Compass are also made from silicone, so your device is balanced and your surfaces won't suffer from nasty scratches or marks. There really is no more to say about the Twelve South Compass other than that it is a brilliant iPad 2 accessory, small, convenient, safe, adaptable, what more could you want from your iPad 2 stand?
2. Twelve South BookArc Stand for iPad 2
We bring you yet another stylish, elegant and clean design for the iPad 2 from Twelve South. The Twelve South BookArc Stand for iPad 2 is a revolutionary stand that will have you watching, listening, typing and surfing in seconds. Not just that, but the minimalist design also caters to the sleek nature of the iPad 2, making it the perfect companion. Allowing you to store and rest your iPad 2 in a variety of positions, the Twelve South BookArc is designed to impress. Rest your iPad 2 in the Twelve South BookArc stand in landscape position to view photos and watch movies or place it in portrait mode to charge, rest and browse. Another great feature of the Twelve South BookArc is that it allows you full access to the iPad's charging port on the bottom and also does not hinder access to any other ports and controls. Made from heavy gauge steel, the Twelve South BookArc is strong and sturdy and a soft silicone insert holds your iPad 2 in place so you don't have to worry about it falling or sliding from position. Twelve South have created a truly dynamic stand and have adhered to the Apple purists in their simple and clean design. Not as portable as the Twelve South Compass, the Twelve South BookArc makes up for it in its uniqueness and is the perfect at home accessory to cater for your new iPad 2.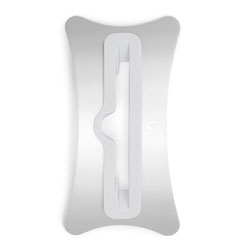 3. Cygnett FlexiView Desk Stand for iPad 2
Introducing the Cygnett FlexiView Desk Stand for iPad 2, a revolutionary stand that allows you to view your iPad 2 in three different positions. Securely holding your iPad 2 with its rubberised body, the Cygnett FlexiView is dynmaic and versatile in both style and design. Position 1 has the iPad 2 raised slightly up, the ideal position for typing, especially when sending emails and blogging. Position 2 raises your iPad 2 slightly higher and it is now in prime position for watching those classic films and videos. And last but not least, position 3 is designed especially for showcasing presentations and photos to others, just the right height for your iPad 2 to be viewed by many at one time. Can the Cygnett FlexiView stand get any better? Well yes it can! The stand not only allows you to utilise your iPad 2 in three different viewing positions but it also allows you to position your iPad 2 in either portrait or landscape mode so you get the best of both worlds. There's not much to the Cygnett FlexiView stand, but that is what makes it so brilliant. Cygnett have produced a good, honest stand that does the job and keeps your iPad 2 safe and secure too!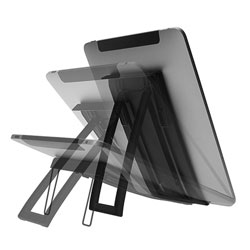 4. Griffin A-Frame Desktop Stand for Apple iPad 2
A running theme through our list of top iPad 2 stands is simplicity. Apple created their products around the idea of minimal and ingenious design and it seems that accessories designers are following suit. Griffin are no exception with their A-Frame Desktop Stand for Apple iPad 2. Efficient, simple, dynamic and functional in every sense, the Griffin A-Frame is a winning iPad 2 accessory. Made from heavy aluminium, the stand supports and holds the iPad 2 in a raised viewing position and can also be utilised to form an excellent raised platform for comfortable typing positions. Quite simply, the Griffin A-Frame is first class.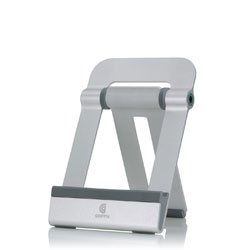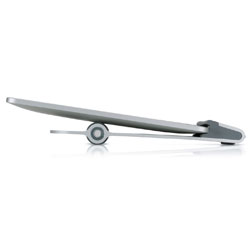 5. Intelligent Touch i360 Multi Position Stand for iPad 2 – Black
Intelligent Touch have devised a very sleek stand for the iPad 2 with their i360 Multi Position Stand. The neck of the stand allows you to rotate your iPad 2 360 degrees, to any viewing position required and holds your iPad 2 securely in place. The Intelligent Touch i360 can do more, with an in-built wall mounting facility, your iPad 2 can be positioned at whatever height best suits you, making the Intelligent Touch i360 one of the best iPad 2 stands we've come across. Intelligent Touch have also created the i360 stand to accommodate future Apple iPad's, the "claw" which is used to hold your iPad 2 securely in place, can be removed and updated to a later version, so if you upgrade your iPad you don't have to upgrade your whole stand to, genius!
6. Just Mobile UpStand for iPad 2
If your looking for elegance, style and sophistication, the Just Mobile UpStand may just be the perfect iPad 2 accessory for you. Crafted from high-quality aluminium, the Just Mobile UpStand is the perfect partner for the iPad 2, and thoroughly deserves its place in our list of top iPad 2 stands. Your iPad 2 is held firmly in place with secure rubber grips, and as an added bonus will even hold your iPad 2 in most cases. Raising your iPad 2 to the ideal desktop height, the Just Mobile UpStand will support and hold your iPad 2 in either portrait or landscape position so you can watch movies, surf the net and even display pictures. The Just Mobile UpStand allows you to utilise all of the features on your iPad 2 without hindering access to ports, docks and all other vital connections. Also, the simple, clean aluminium design will take nothing away from the look of your iPad 2, merely supporting it not stealing the limelight, exactly what you want from any iPad 2 stand!
7. Just Mobile Encore Desktop Stand for iPad 2 – Silver
A second Just Mobile stand has made it onto our list. Introducing the Just Mobile Encore Desktop Stand for iPad 2. This has to be one of the most nifty and impressive stands, as well as being one of the smallest. A solid ring of aluminium forms the base of the stand with a flexible hinged arm which allows you to select the perfect position for using your iPad 2, whether it be viewing, surfing or typing, raise your iPad 2 up high or position it low, whichever best suits you! A rubber stopper on the opposite side of the base keeps your iPad 2 in place and the top of the base also features rubber to ensure that your iPad 2 stays scratch free. Finally, one of the best features of the Just Mobile Encore has to be its portability, small and flexible, the arm will collapse so you can easily take your Just Mobile Encore where ever you take your iPad 2, becoming the perfect companion to your device.
Check out Just Mobile's demo video to see the Encore in all its glory: