Griffin iPhone, iPad and iPod Accessories available at eoutlet.co.uk
An article by
eoutlet
Griffin are one the most prolific and innovative companies when it comes to Apple accessories. Designing and creating the revolutionary iTrip for the iPod, Griffin have developed and expanded to produce accessories for all Apple accessories and have become a leader in their industry. Cases, docks, speakers, sports bands, transmitters, chargers, you name it, Griffin make it. eoutlet are proud to be an official reseller of the Griffin brand and below we have listed some of our favourite Griffin products. Also, you can check out our full Griffin range, see here for more details.
Griffin iTrip Transmitter with App Support for iPhone and iPod
Griffins signature product, the Griffin iTrip is the device that made their name in the Apple accessory market. Connecting to your iPod or iPhone, the Griffin iTrip allows you to play all your music through your car or home radio, automatically finding the clearest frequency with its SmartScan technology. The lack of wires also means that the Griffin iTrip is great for travelling and the has virtually no weight, which is an added bonus! Nifty little features, such as presets allows you to save the best radio frequencies and Griffin have added operational controls so you can play, pause and skip through your songs whilst your iPhone/iPod is in sleep mode. You can even download a free Controller App, which gives you a multi-touch display on the screen of your iPod/iPhone to further enhance your Griffin iTrip experience. Brilliant!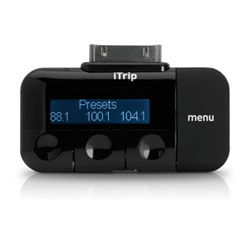 Griffin Survivor Tough Case for iPhone 4 – Black
Griffin descibe their Survivor Tough Case for iPhone 4 – Black as "…the most protective case we've ever built." Quite a bold statement but if you see this case in action you will know exaclty what they mean. The Griffin Survivor Case is ideal for anyone who spends their days in extreme or hazardous enviroments or who is generally a bit clumsy. Providing all over protection, the Griffin Survivor is built from a shatter-resistant polycarbonate frame clad in rugged, shock absorbing silicone and all the ports, headphone jack and switches are sealed by hinged plugs, to ensure they are equally protected. And lets not forget the screen, Griffin have added a built-in screen protector, so the most precious aspect of your iPhone 4 stays protected. Griffin have made sure that their Survivor Case can withstand all enviromental and dropping factors and even had it tested against US and UK defence standards. This is an extremely brilliant case and we'll let Griffin have the final word…"Ridiculously over-engineered? Or the perfect case for your iPhone 4 no matter where you're headed? We think it's a little bit of both."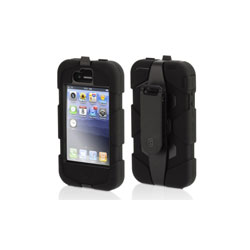 Check out one of Griffin's employees trying to destroy an iPhone 4 whilst it is in the Griffin Survivor Case:
Griffin A-Frame Desktop Stand for Apple iPad
Our last item on our list of Griffin products, is ideal for any iPad or recent iPad 2 owners. To maximise our iPad usability, Griffin have developed the Griffin A-Frame Desktop Stand for Apple iPad. A simple and basic stand, the Griffin A-Frame will revolutionize the way you use and view your iPad. Allowing your iPad to balance at viewing height so you can watch your favourite movies and view slide shows, the Griffin A-Frame will also lie flat with a slight raise, creating the perfect typing position. Crafted from solid, heavy aluminium, you are in no fear as the Griffin A-Frame will support your iPad 2 securely and the rubberized cradle, firmly holds your iPad in place, even allowing it to be used with many cases. This is an excellent solution from Griffin which will allow you to use your iPad and iPad 2 whilst at home and on the go.
Tags:
griffin
,
griffin a-frame
,
Griffin case
,
griffin ipad
,
griffin iPad 2
,
griffin ipad stand
,
griffin iphone 3g/3gs
,
Griffin iPhone 4
,
Griffin iPhone 4 case
,
Griffin iphone case
,
griffin stand