Gear4 Angry Birds Speakers For iPhone & iPod Coming Soon!!
An article by
eoutlet
Angry Birds is one of the most popular games to come out of the Apple App Store, so much so, that it has become an international phenomenon. As well as creating a wealth of updates and seasonal specials, Angry Birds has become more than just a game. Top Apple accessory manufacturer, Gear4, have taken the brand of Angry Birds and created some exclusive Apple accessories.
eoutlet blogged several months ago about the launch of the Gear4 Angry Birds cases for iPhone 4, iPod Touch 4G and iPad 2, and now Gear4 have stepped up and produced an even more outstanding accessory, the Gear4 Angry Birds Speakers for iPhone and iPod.
Gear4 have taken three of the most popular characters from the Angry Birds game, Red Bird, Black Bird and the Green Pig and made them into some fantastic speakers and iPod docks.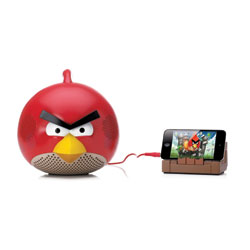 The Red Bird Speaker and the Black Bird Speaker both feature a 3.5mm jack connection and an awesome separate stand to place your iPod, iPhone or iPad on whilst it is connected to the speaker, offering some truly fantastic sound. The Green Pig Speaker is unique to the others in that it features an inbuilt dock connector, so your iPod or iPhone can have pride of place at the helm of the Green Pig.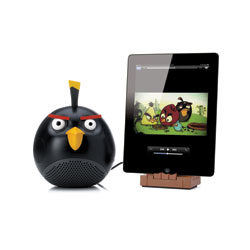 The Gear4 Angry Birds Speakers will make the ultimate Christmas present, not only are they practical, but they are a brilliant alternative to your standard speaker or iPod dock. And given the ultra cool factor, these Angry Birds Speakers do not compromise on quality, offering a rich and full-bodied sound.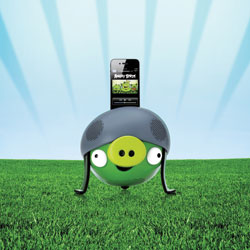 Make your friends and families Christmas with a Gear4 Angry Birds Speaker available now on pre-order from eoutlet and due for release in September.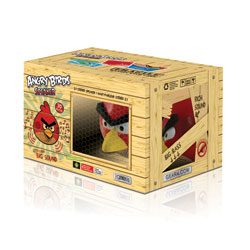 Tags:
angry birds
,
angry birds accessories
,
Angry Birds Black Bird Speaker
,
Angry Birds Green Pig Speaker
,
angry birds ipad accessories
,
angry birds iphone accessories
,
angry birds iphone dock
,
angry birds ipod accessories
,
angry birds ipod dock
,
Angry Birds Red Bird Speaker
,
Angry Birds Speakers
,
Gear4
,
gear4 accessories
,
gear4 angry birds
,
Gear4 Angry Birds Speaker For iPod and iPhone
,
Gear4 speakers
,
ipad speakers
,
iphone speakers
,
ipod speakers