Gear4 Angry Birds Cases for iPad 2, iPhone 4 and iPod Touch 4G
An article by
eoutlet
One of the best selling games to come out of the Apple App store has finally produced a range of accessories thanks to Gear4. They have designed and created exclusive iPad 2, iPhone 4 and iPod Touch 4G cases featuring the famous characters of Angry Birds. Make your device stand out and cause a stir with a fantastic Angry Birds case. Not only are the Angry Birds cases slim and easy to clip-on, but they are also extremely protective and will keep your device safe as well as stylish. Below, we take a look at the unique Angry Birds designs featuring on Gear4's exclusive cases…
Red Bird
Probably the fiercest and smallest of all the Angry Birds, the Red Bird is definitely a force to be reckoned with. See it adorn your new iPad 2, iPhone 4 or iPod Touch 4G. The shocking red design will ensure your device is bright and vibrant.
Black Bomber
The Black Bomber is a deadly bird, exploding on impact he destroys pretty much everything in his path. Make the deadliest of birds, the coolest of accessories for your iPhone 4 or iPod Touch 4G.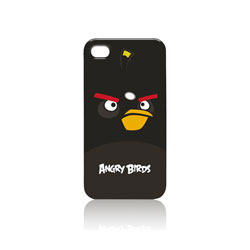 Yellow Bird
Fast, dynamic and direct, the Yellow Bird leaves all others behind. Add this striking and bold colour to your iPhone 4 or iPod Touch 4G to really bring it to life.
Pig King
The enemy of the Angry Birds, the Pig King lies in wait ready to withstand the attacks and bombardments that come his way. Adorn your iPod Touch 4G or iPhone 4 with the big bad and watch its bright green colour turn heads and raise eyebrows.
Exclusive iPad 2 Cases
As well as the range above, Gear4 have released 2 exclusive designs for the iPad 2. Check out the Red vs Pig case and the Family case, both designed to keep your brand new iPad 2 extremely protected and looking very stylish.
Tags:
angry birds
,
angry birds cases
,
angry birds cases for ipad 2
,
angry birds cases for iphone 4
,
angry birds cases for ipod touch 4G
,
bird case
,
gear4 angry birds
,
Gear4 angry birds cases for iPad 2
,
iPad 2 case
,
iPhone 4
,
iPhone 4 case
,
ipod touch 4G
,
ipod touch 4G case