Does the New iPad 2 Require a Screen Protector?
An article by
eoutlet
You've just invested in a very expensive piece of kit in the form of the iPad 2, and you need to decide how best to protect it from all the accidental scratches, marks and damage it is potential too. Unlike previous Apple products, Apple have designed and created their very own front cover for the iPad 2, known as the Apple Smart Cover. But is this enough protection? And what if you don't want to cover up the screen with a bulky cover? Well, here at eoutlet we understand that every iPad 2 owner is unique and not everyone wants the same protection and covers for their iPad 2. Therefore, in order to help you make a better choice, we've listed the best Screen Protectors around from the best Apple accessory manufacturers on the market. Enjoy!
Cygnett are one of the few Apple accessory manufacturers that are consistent in producing outstanding Apple accessories. From cases, to stands, chargers to sleeves, Cygnett are constantly at the forefront of the market. And the release of the iPad 2 is no exception. With two dynamic and effective iPad 2 screen protectors to choose from, Cygnett have all bases covered. The Cygnett Optics Screen Protector for iPad 2 – Clear consists of your standard screen protection. Protecting your screen from smudges, smears and fingerprints, the Cygnett Optics Screen Protector will keep your iPad 2 safe and secure from all life has to throw at it. It allows full access to the multi-touch screen and includes a microfibre cleaning cloth to ensure no dirt and dust is in the way when you first apply the Cygnett Optics Screen Protector. Cygnett's second iPad 2 screen protector is the Cygnett Optics Single Screen Protector for iPad 2 – Anti Glare. Similar to the Cygnett Clear Screen Protector, the Anti Glare Screen Protection offers all the same defence against smears and marks but also makes your iPad 2 just as effective when you are in bright sunshine, offering protection and efficiency all in one.
It would not be a list of the best Screen Protectors for the iPad 2 if it didn't feature a Zagg product. And of course, Zagg have not let us down with the Zagg InvisibleShield Screen Protector for Apple iPad 2 offering their superior military grade protection for your brand new iPad 2. Made from a thin polyurethane film, the Zagg InvisibleShield for iPad 2 offers the toughest and most unbeatable protection for the sensitive screen of your iPad 2. Precision cut to be the perfect fit for your iPad 2, the Zagg InvisibleShield offers exceptional protection against the most extreme forms of damage. Easily installed, and should the Zagg InvisibleShield ever become too scratch to carry on, it is easily removed and replaced under Zaggs lifetime guarantee.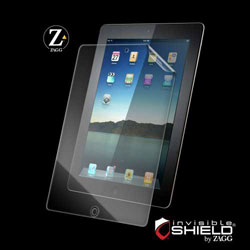 Incipio are our next big contender in our list of the best Screen Protectors for iPad 2. And similar to Cygnett, Incipio have developed a range of screen protectors to suit your needs. The Incipio Screen Protector for iPad 2 – Anti-Glare is designed to protect your iPad 2 screen to the max and ensure that it is fully functional in all conditions. Further to this, Incipio have also produced the Incipio Screen Protector for iPad 2 – Clear which offers exceptional screen protection, along side simple and effective application and removal if necessary. Incipio's included Vanity Kit includes an application tool and microfibre cleaning cloth, as well as the application spray to ensure the screen fits tight and no dirt or dust gets in the way. And finally, Incipio have the Incipio Screen Protector for iPad 2 – Privacy which offers the ultimate in protection and security for any iPad 2 user. Keeping the screen safe and scratch free, the special coating of the Incipio Privacy Screen Protector is designed to keep your iPad 2 screen shielded from anyone looking over your shoulder, making it viewable to only you. This ingenious extra of Incipio means that you regain the privacy of your iPad 2, as well as keeping it ultra protected.
We've seen some pretty outstanding Screen Protectors for the iPad 2 in our list and the final to make their stand is the Griffin Screen Protector Care Kit for iPad 2. The key benefit of the Griffin Screen Protector compared to its competitors is that it does not require any messy liquids, making its application smoother and more efficient. Also, with its static peel finish, the Griffin Screen Protector For iPad 2, will ensure dust and dirt is kept firmly away from your sensitive screen. Thin, durable and effective, this screen protector will keep your iPad 2 super safe and secure and its easy installation is an even greater bonus.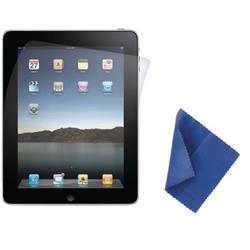 With all these options to choose from, there is no doubt that your iPad 2 screen will be protected from any harm that comes its way, without the need for a bulky case.
Tags:
apple
,
apple ipad 2
,
cygnett
,
cygnett screen protector for ipad 2
,
griffin
,
griffin screen protector for ipad 2
,
Incipio
,
incipio screen protector for ipad 2
,
ipad 2
,
screen protector
,
screen protector for ipad 2
,
zagg
,
zagg invisiblesheild
,
zagg invisibleshield for ipad 2