Cygnett CarGo iPad and iPad 2 Car Seat Mounting Bracket
An article by
eoutlet
Cygnett have developed the ultimate way to keep the kids happy and utilise your iPad or iPad 2 to its full functionality on those long car journeys.
Introducing the Cygnett CarGo iPad/iPad 2 Car Mount Bracket: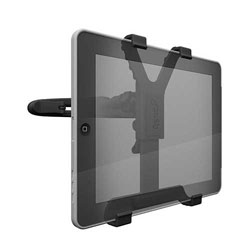 Transform your back seat into a digital entertainment hub with Cygnett's iPad/iPad 2 car mount bracket, the CarGo. Perfect for keeping backseat passengers busy (while allowing the driver to concentrate on the road), CarGo provides a safe and stable place for your iPad.
The 360-degree rotation and tilt feature allows the iPad screen to be angled vertically or horizontally for perfect glare free viewing by one or more back-seat passengers.
Features
Connect easily to charger, or plug in earphones.
Watch movies, play games, listen to music on the road completely hands-free.
Easy-to-use, the CarGo bracket snaps on and off a car's headrest in seconds.
Functional design allows for use with iPad that have cases just as easily as those that don't.
Precisely engineered fingers grip your iPad affording extra stability for more stable viewing.
Easy access to all ports and controllers, as well as the earphone port for use with headphones.
Perfect for keeping kids entertained on long drives.
2 year manufacturer's warranty.
Compatible with iPad and iPad 2.
Related Posts