Be-ez iPad and MacBook Accessories available at eoutlet.co.uk
An article by
eoutlet
Be-ez are one of the most stylish and sophisticated iPad and MacBook accessory designers around. Producing soft, practical and protective cases, sleeves and bags designed specifically for your individual MacBook or iPad. Be-ez use the revolutionary Low Resilience Polyurethane (LRPu) Technology for their cases and sleeves. This flexible, strong and resilient material keeps your MacBook or iPad cushioned in a safe and soft environment, protecting it from marks, scratches and dents.
MacBook
Apple's superior laptop computer, the MacBook is designed to be small and sophisticated but as with all Apple products, it needs a little extra protection to keep it looking at its best. So that is where Be-ez comes in with their exceptional range of MacBook cases, sleeves and bags. Let's start by taking a look at the Be-ez LA garde robe For 13″ MacBook. This laptop bag is elegant and is specifically designed to carry your laptop, plus a folder and any other bits and pieces you will need for your day. Made from nylon and featuring a handy, envelope-style design with large access point, this 13″ Be-ez laptop bag is a sure winner, not to mention it being available in four colour schemes; Red/White, Black/Pumpkin, Black/Wasabi and Black/Light Pink. However, if you prefer a more classic laptop bag, the answer comes in the form of the Be-ez LErush. Available in 13″ and 15″ and in various colours, the Be-ez LErush is simple in design, with a large middle pocket for your MacBook, a front pocket and side pockets for all your cables and pens and finally it features an over the body strap and two short handle straps, making it adaptable to you. As well as their exceptional bags, Be-ez have also created a wealth of sleeves designed especially for the MacBook. Take your pick from; Be-ez LArobe Colour Addict, Be-ez LArobe Chic Marine, Be-ez LA robe and the Be-ez LArobe Allure. And if all those block colours don't take your fancy, try the Be-ez LA robe I Lov' Paris Sleeve for 11″ MacBook, three unique and stylish designs created exclusively by French designer Mathieu Rivière.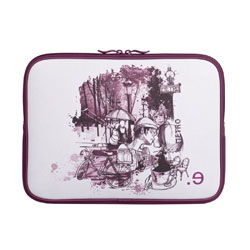 iPad and iPad 2
With Apple's launch of the iPad and recently the iPad 2, the Apple accessory market has gone wild, aiming to create the best protection for iPad and iPad 2 users alike. Be-ez were no exception, with their reputation of producing high quality MacBook cases, there was no doubt that they would go on to produce some fantastic iPad and iPad 2 cases to match. For those wanting a suitable bag for their iPad, the Be-ez LErush En Ville follows the style of the Be-ez LErush for MacBook, only this time being much smaller to accommodate the iPad. With one large centre pocket and a smaller front pocket, the Be-ez LErush En Ville also features a discreet zipped pocket, passport holders and a key hook making it the ideal solution for taking your iPad where it needs to be. If a simple sleeve is more your style, then look no further than the Be-ez LA robe Allure Sleeve Case. Available in either black or striped coloured, the Be-ez LA robe Allure features that Low Resilience Polyurethane (LRPu) Technology again, making it super protective and supportive for your trusty iPad or iPad 2.
Tags:
Be-ez
,
be-ez en ville
,
be-ez la garde
,
Be-ez laptop bag
,
Be-ez laptop case
,
Be-ez laptop sleeve
,
be-ez larobe
,
Be-ez Sleeve for ipad
,
Be-ez sleeve for ipad 2
,
Be-ez sleeve for macbook
,
Be-ez sleeve for macbook 13"