Animal iPhone 4 and iPhone 3G/3GS Cases
An article by
eoutlet
If your looking for a unique, stylish, vibrant, colourful and protective case, well Animal have your answer. One of the most fashionable surfing brands, Animal have now launched their own range of exceptionally cool iPhone cases for both the iPhone 3G/3GS and the iPhone 4. Each with its own design, you can choose from bright patterns or a more classic block colour, all featuring the signature Animal logo. See below for our selection of some of the best Animal iPhone covers!
iPhone 3G/3GS
If your looking for the ideal case to liven up your iPhone 3G/3GS but also one which offers superior protection, Animal have the selection for you. Take the Animal Tech Check hard shell iPhone 3GS – Fluro Pink, this low-profile hard shell case snaps easily onto the back of your iPhone 3G/3Gs and will offer superior protection as well as eye catching design with its pink, purple and green quilted pattern. Or how about the Animal Josie Floral hard shell iPhone 3GS – Horizon Blue case with its bright blue background covered with beautiful flowers. Or if you prefer a darker, richer design of case then the Animal Multi Word Hard Shell Case for iPhone 3G/3GS – Strong Blue is the one for you. With a patterned animal word print, this case is sophisticated in its subtlety. Last but not least, Animal have designed the Animal Lightning hard shell iPhone 3GS – Red ideal for those who want a striking cover for the back of their iPhone 3G/3GS. A bold red cover with a lightening bolt pattern, this case will envelop your iPhone 3G/3GS in dynamic style.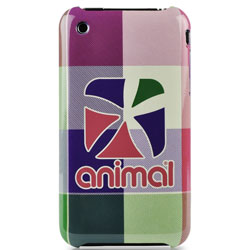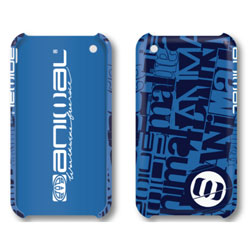 iPhone 4
Any proud iPhone 4 owner wants the best protection that is on offer without compromising on style. Animal's range of exciting and fresh iPhone 4 cases will cater to both these needs, delivering superb and different cases which have ambles of protection and coverage. Like for the iPhone 3G/3GS, Animal have also produced the Animal Josie Floral Hard Shell Case iPhone 4 – Horizon Blue for the iPhone 4 as well as the Animal Tech Check Hard Shell for iPhone 4 – Fluro Pink, two exceptionally pretty designs that will turn heads where ever you go. However, Animal have also designed several other cases exclusively for the iPhone 4. Firstly, there is the Animal Joise Floral Hardskin Case for iPhone 4 – Phantom. With flowered pattern set against a dark background, this case is striking in all its glory. Animal have also created the Animal Zebra Hard Shell Case iPhone 4 – Black, this jazzy design fits in perfectly with Animal's namesake. As well as these few hardshells, Animal have also produced an fantastic range of silicone cases which offer a more moulded and flexible fit for your iPhone 4. The deep and dark Animal Silicone Corp Logo Case for iPhone 4 – Black Purple is perfect for anyone wanting that subtle and blocked colour look. Animal have a similar design with the Animal Silicone Corp Logo Case for iPhone 4 – Black/Pink but with a much more striking colour. If you prefer something a bit more vibrant, Animal also have the Animal Owl Case for iPhone 4 – Plum Perfect with its lovely plum purple background with a bright triangle design. If you liked the look of Animal's Zebra-Print Hard Shell case but prefer the softer feel of a silicone case, do not fear, Animal have also made this case in silicone the Animal Silicone Zebra iPhone 4 Case. The final case on our list has to be the most hard-wearing and tribal in design, the Animal Moulded Claw Silicone Case for iPhone 4 – Black. With a raised, moulded design, the Animal moulded Claw is for the ultimate extreme iPhone 4 owner who needs that little bit more extra protection.