Griffin Reveal Case For iPad 2

An article by
eoutlet
So, you've just purchased your iPad 2. Beautiful and sleek, this is a gadget that is designed to impress. But, before you take it out of the box, you want to make sure you have a superior accessory that is going to protect your iPad 2 from the impact of scratches, dust and knocks. Also, not to mention, an accessory that is not going to take too much away from the look and feel of your iPad 2. Protection and style, is it possible?
Well, yes it is! Griffin have the answer with their Reveal Case For iPad 2. Simple, classic and offering maximum protection, the Griffin Reveal Case will keep on protecting your iPad 2, time after time.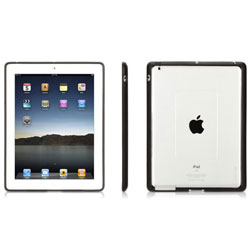 Griffin offer the iPad 2 user hard protection with a rubber cushion design with their Reveal Case.
The back of the Reveal Case is clear, allowing you to see the elegant design of the back of your iPad 2. A key feature that many cases seem to miss, and defeats the reason why many people buy an iPad 2, for the look and design, why would you want to cover this up? This clear back is crafted from durable polycarbonate and features a thin foot which allows the iPad 2 to be stable whilst resting flat.
And lets not forget the rest of the case, Griffin have constructed a one-piece rubber cushion to cover the edges of your iPad 2. They have also made the rubber slightly raised at the front, so if your iPad 2 is ever lying face-down, the touch screen won't come into contact with the surface it is rested on. Pretty nifty wouldn't you say? Griffin have also ensured there are cut outs and holes for the camera, all ports and connections so the Reveal Case in no way hinders the usability of your iPad 2.